Joan James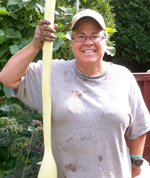 Joan has been backyard farming since she was a little girl. The art of raising vegetables has been a fruitful and always fluid endeavor. The chance to share this with other people is a dream come true. She specializes in the growing of heirloom tomatoes. She has spent many years refining the techniques needed to grow tomatoes vertically. She looks forward to sharing her knowledge of succession and high density planting with A Back Yard Farm customers.
Coleen Gregor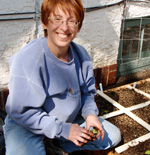 Coleen grew up in a farming and gardening family in Southern Minnesota at a time when farm families grew and preserved much of the family's food. Upon moving to St. Paul in 1984 she began adapting her growing methods to the urban environment of small yards and community garden spaces. She is excited to be able to share the experience of farm fresh, high quality organic vegetables with other urban dwellers via A Backyard Farm.
Cooper and Tony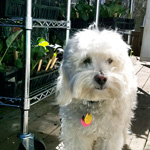 Every farm needs a rescue dog or two. Cooper, being blind, keeps a sharp ear tuned for any broccoli rustlers while Tony will cheerfully taste any vegetable to verify its sweetness. Look for our column in A Backyard Farm's newsletter.