Fennel-Arugula Salad with Oranges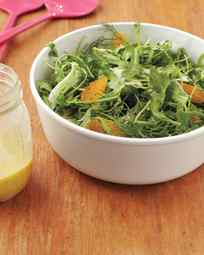 Serves 6
Active time: 15 mins
Total Time: 15mins


INGREDIENTS:

* 2 oranges peeled with pith removed
* 1 tbsp white-wine vinegar
* 1 tbsp. Dijon mustard
* 3 tbsp extra virgin olive oil coarse salt and ground pepper
* 1 large fennel bulb, cored and very thinly sliced, fronds reserved
* 5 ounces baby arugula (5 cups)

DIRECTIONS:

1. Working over a medium bowl, cut out orange segments then squeeze juice from membranes.

2. To a jar, add 2 tbsp juice, vinegar, mustard and oil.

3. Season with salt and pepper.

4. Shake to combine.

5. Combine fennel and fronds, arugula and orange segments in a bowl.

6. Drizzle with dressing and toss to combine.

NUTRITIONAL INFO:
per serve 103cal: 7g fat (1g saturated fat); 2g protein; 10g carb; 3g fiber

NOTES:
How about making a big batch?
Talk about a smart strategy!
Cook tonight's dinner with an idea for the leftovers already in mind, and the next night is a no-brainer.