Lemon, Parsley & Parmesan Pasta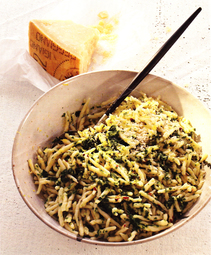 Nobody puts lemon in the corner. Or parsley. Or Parmesan. Yet these three ingredients are often a garnish, an afterthought, or followed by a dismissive optional in recipes But they are, in fact, deserving of much bigger roles. While each has its own merits, it's when they're all mixed together that they become a magical flavor trifecta-the lemon's bright acidity the cheese's salty sharpness, and the parsley's cleansing freshness. Plus, these are hardly exotic ingredients: They are easy to find almost anywhere-and very likely rolling around in your own crisper drawer. As with all love triangles, the power dynamic of these three ingredients is ever shifting. This only underscores their versatility for meals you can eat all day, every day. Whether you serve an open-faced egg sandwich for breakfast, an easy bowl of pasta, or a classic meal of roast chicken, disappointment is certainly not an option. This parsley sauce is a riff on basil-and-Parmesan pesto
ACTIVE TIME 10 MIN. | TOTAL TIME 20 MIN. | SERVES 6
INGREDIENTS:
• 2 cups flat-leaf parsley leaves, packed
• 2 garlic cloves
• ¼ teaspoon red-pepper flakes
• ½ teaspoon lemon zest, plus more for garnish
• Coarse salt and freshly ground black pepper
• ¾ cup extra-virgin olive oil
• 1 pound trofie or other short, twisted pasta, such as fusilli
• 1 cup grated Parmesan cheese

DIRECTIONS:
1. Make the pesto: In a food processor, pulse parsley, garlic, red-pepper flakes, lemon zest, and t teaspoon salt until coarsely chopped. With machine running, add oil in a slow steady stream, processing until blended.
2. Bring a large pot of salted water to a boil. Cook pasta until al dente. Drain, reserving 1/4 cup pasta water.
3. Toss pasta with pesto and Parmesan, then with reserved pasta water, Grate more lemon zest over each serving, and season with pepper.